Delia Hughes death: Marina search for murder weapon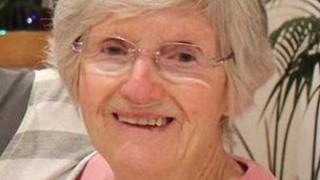 Police divers have searched Ocean Village marina in Southampton to try to find the weapon that was used to murder a great-grandmother.
Delia Hughes, 85, was found dead at her seafront home in Atlantic Close, Ocean Village, on Saturday.
Hampshire Police said she died from several blows to the head.
Det Supt Tony Harris said the motive for the killing was unknown, but police believe the murder weapon could have been thrown into the water.
"We have called on Thames Valley Police dive team to come and help us search an area of the marina," he said.
"We have some intelligence that somebody dropped something into the marina at about the relevant time of the murder.
"So we're rather hoping that they may find something that may help us to link it to the murder itself."
A 29-year-old woman and a 37-year-old man arrested on suspicion of murder have been bailed pending further inquiries.
And two men and a woman have been identified as potentially significant witnesses.
Ms Hughes, a retired Littlewoods supervisor, who had one daughter, two grandsons and three great-grandchildren, lived alone in her flat in the Ocean Village development.