Luke Morrison finishes Isle of Wight dinghy challenge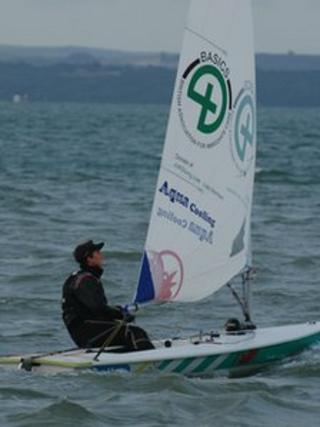 A Hampshire sailor has completed a circumnavigation of the Isle of Wight in a 14ft laser-class dinghy.
Luke Morrison, 29, completed the 50-mile route around the island in just over eleven hours, returning to Hill Head near Fareham at 17:15 BST on Monday.
He said: "It was pretty tough going but incredibly exhilarating."
It raised money for medical charity Basics Hampshire, which provides pre-hospital care by volunteer doctors to the critically ill and injured.
While there is no official record of dinghy journeys around the island, the winds and high waves on its south side make it a highly unusual venture in such a small boat.
Plans for the challenge in June had to be abandoned because Mr Morrison was suffering from pleurisy.
As he sailed back to Hill Head Sailing Club, he was greeted by members of the club where he is sailing commodore.
The anti-clockwise route took him past landmarks including the Needles and St Catherine's Point, battling winds of up to 20 knots and 10ft-high waves.
He said: "It was pretty tough going especially around the back of the island. It was sheer adrenalin that got me through."