Robert Sebbage death: Family travel to Greece for trial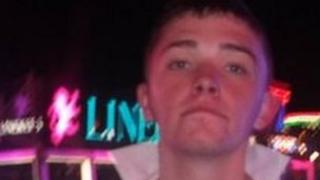 The family and friends of a Hampshire teenager stabbed on the Greek island of Zante are travelling there for the trial of a man accused of his murder.
Robert Sebbage, 18, from Tadley, was killed and four of his friends were hurt during a night out at the Laganas holiday resort in July 2011.
It is alleged they were attacked after a row broke out between them and a group of taxi drivers.
The trial starts on Monday and is expected to take up to a week.
Shortly after the stabbing, two men in their 20s were charged, one with murder and the other as an accomplice.
Stabbed friends return
The Sebbage family have hired an English-speaking Greek solicitor who has told them what to expect from the Greek law courts and will guide them through the hearing.
However, Robert's mother, Rhian Sebbage, said she was apprehensive.
"It's a Greek system, it's all going to be in Greek, half of it we won't know what's going on," she said.
"I don't think you can prepare yourself mentally.
"I have carried on working right up until last Friday, so I've been quite busy which has probably helped me cope."
Travelling with Mrs Sebbage, her husband Andy and their son Martin, will be six of Robert's friends, who were on holiday with him when he died, and their families - a total of 23 people.
"The more you hear it [how Robert and his friends were stabbed], the harder it becomes," Mrs Sebbage said.
"And it's really hard because we know the boys and we end up seeing all the boys together as a group and that's really, really tough because Robert is not with them.
"They try and protect us as much as they can and don't want to talk about in front of us, because it's hard for them as well."