HMS Middleton returns to Portsmouth from Gulf mission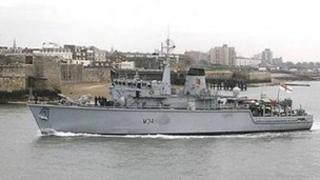 HMS Middleton has returned home to Portsmouth after a three-year deployment in the Gulf.
The Royal Navy minehunter operated out of Bahrain conducting counter-piracy and security patrols as well as exercises with coalition forces.
Friends and family welcomed the ship and her 40-strong crew back to base on Friday morning.
At times, crews endured temperatures in excess of 50C (122F) during their deployment.
The ship's crew rotated every six to eight months and while returning to the UK, visited Malta.
Commanding officer Lt Cdr Steve Higham said: "My team have had the honour of serving in Middleton for over eight months during which we have conducted missions across the military spectrum.
"We have trained hard with other navies and proven the Royal Navy's ability to find and destroy sea mines in the most challenging of conditions.
"Throughout, HMS Middleton's ship's company have conducted themselves with fortitude and determination.
"Acting as ambassadors for Britain, they have been a credit to their country and the Royal Navy."