Isle of Wight Council officers get legal powers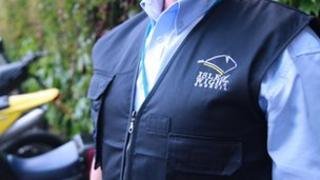 Council community support officers (CSOs) on the Isle of Wight have been given more legal powers by police.
Previously, CSOs were unable to confiscate alcohol from under 18s or tobacco from under 16s.
As well as getting confiscation powers, CSOs are now allowed to direct traffic at events, fine cyclists on footpaths and take people's names and addresses.
Hampshire Constabulary said the move would allow the council and police to better tackle anti-social behaviour.
Officer patrols
The new powers are part of a Community Safety Accreditation Scheme, which allows organisations with a community safety and security remit to have their staff accredited by police.
Insp Julie Rawson, of Hampshire Constabulary, said: "The additional powers given to the community support officers will enable anti-social behaviour to be tackled more effectively and will strengthen the partnership working with Hampshire Constabulary."
There are currently four community support officers on the island who are employed by the council and operate from police stations in Cowes, East Cowes, Newport, Yarmouth, Ryde, Ventnor and Shanklin.
They carry out patrols, record crime and anti-social behaviour and can act as professional witnesses.