Mother sets up charity for special care baby-grows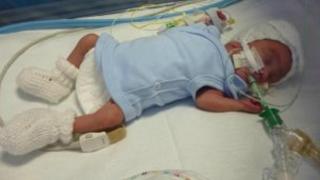 An Isle of Wight mother has set up a charity to provide custom baby-grows for babies in special care units.
Paula Smith, 26, from East Cowes came up with the idea after finding it hard to clothe her baby, Amelia who was in intensive care at St Mary's Hospital.
She said: "I couldn't get her dressed easily because she had a cannula in her hand, and a feeding tube in her nose."
Her sleep suit design is made with poppers along the arms and sides to fit around life-saving equipment.
The mum of two said she produced her first sample of baby-grows two weeks after her daughter left hospital.
Amelia is now fully recovered and about to celebrate her first birthday.
After trialling the clothes at the hospital in Newport, she founded the charity Pop 'N' Grow.
Non-profit
Pamela George, the sister in charge of the island's neonatal unit said: "We are very proud to have been able to help Paula at the beginning of this amazing journey.
"We cannot thank Paula and her team enough for all they have done and the continued support they are giving us."
Run by six trustees and 40 volunteer fundraisers, Pop N Grow has just become a registered charity.
Mrs Smith said: "We never have and never will ask for a single penny from the units, or parents we help.
"We also now hold an Intellectual Property (IP) for this design so they will never be made and sold for a profit by anybody."
The charity now supplies 209 of the UK's neonatal intensive care unit (NICU) and special care baby units (SCBU).
It has donated over 1,000 garments to date.