Southampton Oaklands swimming pool closure approved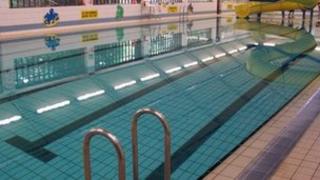 Plans to close a swimming pool in Southampton as part of council budget cuts have been approved.
Oaklands, on the Oasis Lordshill Academy site, is currently shut due to faulty pipework.
The Labour run-council said it was "most regrettable" but was necessary as part of a mini-budget to save £833,000 in the current financial year.
Campaigners have vowed to continue to battle to have the pool re-opened.
A meeting of Southampton City Council approved the proposals to withdraw the £250,000 annual funding for the pool.
The future of the building has yet to be decided, but a community group or private firm may come forward with ideas.
The council had previously said investigations into an earlier leak showed it was unsafe and would require up to £500,000 of urgent repairs.
Other problems with the pool included roof materials regularly falling into the water and an ageing plant room.
'Crazy timing'
Cabinet member for efficiency and improvement John Noon said: "Closing Oaklands pool would be most regrettable but the facility is suffering the legacy of years of neglect and under investment.
"The city has an excellent range of sport and recreation facilities and programmes provided by a wide range of partners."
Residents in Coxford and Lordshill formed a campaign group calling for the pool to be kept open.
They point to Oaklands having facilities for disabled swimmers and said other pools in the city were too far away and were already busy.
Two local Labour councillors, Keith Morrell and Don Thomas, have had the party whip withdrawn for four months for their opposition to the closure.
Mr Thomas said: "We all understand we are living in hard times, but it is crazy timing to do this after the Olympics when people are being encouraged to get involved in sport and swimming - the kids here have nowhere to go."
Mr Thomas insisted investment in the property and weekend opening could make the pool profitable.
Thirty three full-time and part-time posts will be affected by the closure with the council hoping to redeploy them other work in order to avoid redundancies.