Delia Hughes murder: Police to project suspect's image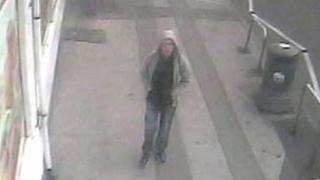 Images of a man wanted in connection with the murder of a great-grandmother in Southampton will be projected onto buildings in the city.
Police investigating the death of Delia Hughes will also use Bluetooth mobile messaging and screenings before feature films in cinemas.
The 85-year-old was found beaten to death inside her Atlantic Close flat in Ocean Village on 18 August.
The move comes on the four week anniversary of Ms Hughes's murder.
Police believe a man seen on CCTV close to her home on the morning of her murder holds vital clues to the investigation.
His image will be projected on to buildings in the Woolston area of the city where he was last seen.
Described as white and aged between 25 and 30, he was wearing a grey hooded jacket, faded blue jeans, trainers and carrying a small black rucksack.
'Saturating the area'
CCTV footage released by police from 18 August shows the man on Bridge Road at about 08:00 BST. He was later seen in the area of Atlantic Close and Ocean Village at 08:20 BST, before leaving there at about 09:30 BST.
Det Supt Tony Harris said: "Despite saturating the area with a description and images of this man through the local media, social media, appeal leaflets and posters, it has became clear from our house-to-house inquiries that not everyone is aware of our interest in this man.
"We have therefore had to look at alternative communication channels to bring this to the attention of as many members of the public that we can.
"By sending out Bluetooth messages and projecting images onto buildings, we hope to achieve this.
"We also appreciate the support being provided by the local cinemas as this too enables us to potentially reach an even greater number of people."
Detectives will also be attending the PSP Southampton Boat Show at the weekend, carrying appeal flyers on their vessels at the show.
A 29-year-old woman and a 37-year-old man arrested on suspicion of murder have been bailed pending further inquiries.