Stoneham Park houses plan protest staged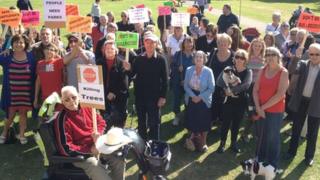 Campaigners have gathered to protest against council plans to build 1,300 homes on Hampshire parkland.
Eastleigh council said it earmarked Stoneham Park - remodelled by landscape architect Capability Brown - to address "a substantial need for new housing".
Harry Willis Fleming, whose family owned the park from 1599 to 1953, said he thought the council's proposals were "a practical joke".
A council spokesman said it welcomed "comments from all local people".
Protesters from Save Stoneham Park met at Eastleigh bandstand on Saturday at 11:30 BST to hear speakers.
The proposal to build houses on the park is in the council's Local Plan document, which outlines future plans for the borough.
Eastleigh Borough Council estimated "9,400 new dwellings" would be needed between now and 2029.
But protester Matthew Myatt called the proposals "outrageous".
'Hidden gem'
He added: "We believe planners may have overestimated future housing need, are not providing sufficient affordable homes and have not properly pursued brownfield options."
Mr Willis Fleming said: "The parkland is a hidden gem that many people have long recognised needs to be preserved as an important part of Hampshire's heritage."
The Local Plan stated the area of the park pinpointed for development had "become degraded".
On Saturday protesters joined forces with campaigners from Rescue the Rec, who tied ribbons around 50 trees which they said could be felled if plans to extend a Sainsbury's supermarket on Leigh Road recreation ground in Eastleigh go ahead.
A Sainsbury's spokesman said the supermarket understood "the sensitivity of encroaching on to the recreation ground" but that it believed the proposed store would "provide a wide range of regenerative benefits to the town centre".
He added the supermarket would plant 13 semi-mature trees and make a financial contribution to a planting scheme for further "replacement trees".
The planning hearing into the Sainsbury's supermarket development is on 2 October.
The closing date for the public consultation on Eastleigh's Local Plan is 12 October.