Escaped bull caught in Farnborough car park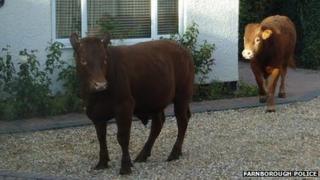 A bull went on the run in a Hampshire residential area after it escaped from an abattoir, police said.
Officers were called to the Sherborne Road area of Farnborough at about 16:30 BST after reports the animal had become agitated, a spokesman said.
The two-tonne bull was captured and returned to the abattoir after being lured into the corner of a car park in Sherborne Road using another bull.
No-one was hurt and no property was damaged.
Residents in Sherborne Road and neighbouring Peabody Road were asked to stay in their homes while the bull was captured.