Cancer girl Sophie Roberts home after US surgery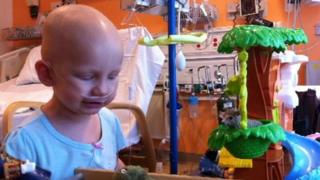 A two-year-old Hampshire girl has returned home from a potentially life-saving cancer operation in America, for which her parents raised £320,000.
Sophie Roberts from Church Crookham has a rare and aggressive form of liver and lung cancer, which surgeons said was not operable in the UK.
On 9 August she had surgery in New York to remove six tumours. She is now back home and awaiting further treatment.
The operations were funded through a charity campaign her parents launched.
Andrew and Ruth Roberts received donations from around the world and a feature on BBC South Today helped raise £60,000 in 24 hours, with one viewer anonymously donating £5,000.
Cancer spread
After three weeks in New York Sophie is now back home.
Mrs Roberts said: "She was quite quiet to start off with. It took her a couple of days really to readjust to being back at home.
"It was quite a difficult time for her in New York with two operations so close together.
"It took a good week for her to settle back into being herself again - her normal noisy self - but now she's doing really well.
"She's completely back to normal and being very cheeky."
Sophie's surgery at the Memorial Sloan-Kettering Cancer Center in New York involved a separate operation on each lung.
She was diagnosed in June 2011 with liver cancer - Hepatoblastoma - which had spread to her lungs.
Her family were told she had only a 30% chance of survival but her best chance would be through the specialist surgery in the US.