Councillors' doubts over £25m plan for Gosport naval site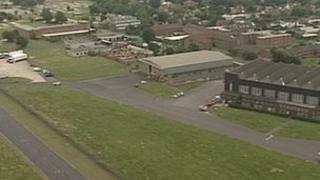 Gosport's opposition political leaders have raised doubts that government plans to invest £25m in a former naval site will create hundreds of jobs.
Communities Secretary Eric Pickles believes the proposal for the ex-HMS Daedalus site in Lee-on-the-Solent will result in 1,200 jobs.
Mr Pickles said the Solent Enterprise Zone will unlock "huge potential" to deliver homes and jobs.
But, Gosport council's Lib-Dem and Labour leaders claim this is unlikely.
The former naval airfield, which was operational until 1996, is set to be turned into a business park for the advanced aviation, marine and aerospace sectors, eventually creating about 4,000 jobs.
'Woefully inadequate'
"[However] anyone can promise new jobs but in the current economic climate it's harder to deliver," said Peter Chegwyn, of the Lib-Dems.
"Gosport is seen as a dead-end town, when actually it's got a lot going for it, we have to change that perception - it needs more than a visit by Eric Pickles."
He believes businesses will not invest because of the town's "woefully inadequate" infrastructure.
"Gosport has a net migration of about 26,000 workers each day so the town's roads are clogged," he explained.
Dennis Wright, leader of Gosport's Labour group, agreed.
"Out of 38,000 people of working age in Gosport there are 19,000 jobs, but we also need road improvements," he said.
In 2011, the Solent was announced as one of 24 locations for the government's "enterprise zones" designed to boost economic growth with plans being approved by Fareham and Gosport councils.
Negative press
Mark Hook (Conservative), leader of Gosport council, said: "The enterprise will create in excess of 4,000 jobs but this is just the first small step.
"Gosport has one of the lowest job densities in Hampshire with 0.48 of a job per employable person."
Mr Hook conceded Gosport has suffered a negative press regarding deprivation, which he attributed to it being one of the "most urbanly-dense areas in Hampshire".
The proposed investment at the 82 hectare (800,000 sq m) site will include £8m from the Solent Local Enterprise Partnership's Growing Places Fund, £4.1m from Hampshire County Council and £1.5m from the Government's Regional Growth Fund.
It is anticipated that more than £15m will be used to unlock 21.6 acres of land that could be developed for up to 90 new homes.