Delia Hughes: Funeral of home attack held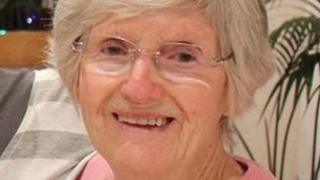 The daughter of a great-grandmother found beaten to death in her Southampton home has described her as "a survivor of life" at her funeral.
Delia Hughes, 85, was found in her flat in Ocean Village on 18 August. She had died from several blows to the head.
Jamie Boult, 24, from Bitterne, has been charged with her murder.
Mrs Hughes' daughter, Beryl, also asked for her mother's forgiveness having asked her to move to Southampton from Blackpool 17 years ago.
Mrs Hughes, a retired Littlewoods supervisor, moved to Southampton having lived in Blackpool for 50 years, to be closer to her family when her husband Eddie died.
'Chatty and friendly'
In a eulogy read out during Mrs Hughes' funeral, at Southampton Crematorium, her daughter said: "In hindsight I wish we had not suggested she move from Blackpool, she might still be alive today but she wouldn't have had the closeness of her family round her, so I hope she will forgive me for that, we only had your best interests at heart mum."
She said her mother was "always friendly and chatty" and "was a very independent lady".
She described the day her mother was murdered as "awful" and said she was "a defenceless little old lady who wouldn't hurt a fly".
The eulogy went on to tell how Mrs Hughes had been born to Irish parents in St Helens but later moved with her husband to Blackpool, where she worked part time at Littlewoods for about 30 years.
"She loved it; it was her life, after dad and me of course."
After he had a stroke Mrs Hughes nursed Mr Hughes, "massaging his limbs every day with such determination," said Beryl.
"Mum may not have looked a strong person," she added, "but she was strong here in her heart, she was a survivor of life and had very strong family values and commitment."
Mrs Hughes' coffin was pink and painted with flowers.
Mr Boult, from Chessel Crescent, is in custody and is expected to appear before Winchester Crown Court on 17 December ahead of a trial in March next year.