Drones backed by Hampshire chief constable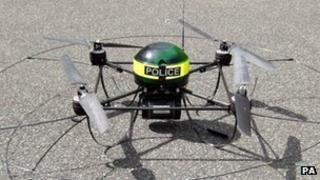 A police chief has called for a debate into whether unmanned drones could provide extra support to officers.
Chief Constable Alex Marshall of Hampshire Constabulary said drones stay in the air longer and are cheaper than conventional aircraft.
"It's something that's worth looking at in the future," he added.
A spokesman for the Civil Aviation Authority (CAA) said: "Nothing will be approved unless safe mechanisms are in place to avoid mid-air collisions."
Mr Marshall said current rules meant Unmanned Aerial Vehicles (UAVs) could only be used when in the line of sight of their operators.
He added: "It means you could have coverage in the air for long periods, but equally the public need to have a debate and the police need to make sure we understand peoples' concerns about security and about privacy, and that debate is yet to come."
'Treated the same'
The use of UAVs in UK airspace has increased with the CAA approving applications from five police forces since 2010.
They range in size from 3kg to the size of a light aeroplane.
Mr Marshall said they were not presently used in "mainstream policing".
Home Officer minister Damian Green said: "Drones are like any other piece of kit - where it's appropriate or proportionate to use them then we will look at using them.
"But they need to be treated the same as any other piece of police equipment or police activity."
A new National Police Air Service was launched on Monday, replacing localised police helicopter operations in England and Wales.
The service of 25 helicopters at 23 bases, some not operating round the clock, is expected to save £15m a year as seven other bases are closed.