Cunard's Queen Victoria undergoes dry dock repairs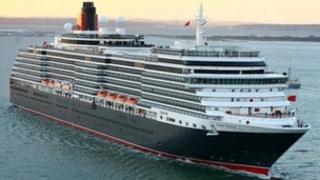 Cunard cruise liner Queen Victoria is undergoing repairs following a recent mechanical failure.
The ship had been due to sail from Southampton earlier at the start of a 16-night cruise of the Adriatic.
Instead, dry dock repairs to its propulsion system began in Bremerhaven, Germany before an expected return to service on 17 October.
Part of the ship's system failed while on a cruise off Portugal last month, forcing it to sail at lower speeds.
Cunard apologised to passengers affected by the cancellation. They have been offered places an alternative cruises or a full refund.
In both cases, passengers will also receive 15% off any future booking.
Managing director Peter Shanks said: "We're very sorry to disrupt passengers' plans.
"We're doing all we can to minimise the impact to them and help everyone affected find suitable alternative holidays."
Cunard added the cancellation was "regrettable but unavoidable".
Queen Victoria will sail back to Southampton after the work to begin a scheduled voyage to the Caribbean on 19 October.