Southampton's Itchen Bridge tolls to be automated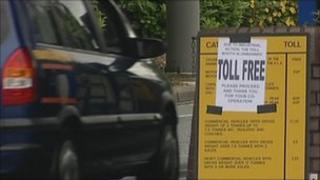 Toll gates at Southampton's Itchen Bridge are to be automated from December, the city council has said.
Cash bins are being installed at booths on the bridge, which links Woolston to Southampton city centre.
The bridge has five toll booths and is manned 24 hours a day, seven days a week, with the exception of Christmas Day and Boxing Day, 26 December.
About 20 people are employed there. Those who lose their jobs will be able to join a council redeployment scheme.
Following the automation, lane attendants will remain on site between 06:00 and midnight to respond to any problems, but only two will be there at any given time.
A previous council agenda anticipated the equivalent of 12 full-time posts would be lost.
No change
A spokeswoman said some of the current staff were part-time, while some were due to retire.
Workers set to lose their jobs will be offered a place on a council redeployment scheme, which allows staff to apply for other suitable roles in the authority as they become available.
The booths will continue to be manned and drivers will be able to continue using existing bridge tokens until 31 January.
Tokens will be replaced by a "Smartcities" card, which can be topped-up. Concessionary prices for local businesses and Southampton residents will still be available.
The cash bins will not give change.
Bridge toll workers were among hundreds of council employees who went on strike in 2011 in a dispute over pay cuts. The council has since promised to reverse the pay cuts, giving priority to the lowest paid staff.
The Itchen bridge opened to traffic on 1 June 1977. It took three years to build at a cost of £12,174,000.