Condor Logistics to close with loss of 110 UK jobs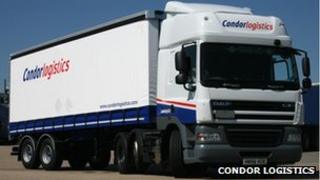 Shipping company Condor Group is closing its logistics division with the loss of 110 UK jobs, most of them in Portsmouth.
The firm blamed a reduction in demand for haulage services, caused by the economic downturn.
It said workers would be able to apply for other roles within the company but there would also be redundancies.
Another 70 jobs will go in the Channel Islands but the plans do not affect Condor Ferries.
'Declined substantially'
Condor Logistics operates services between Portsmouth, Jersey, Guernsey, France and the Isle of Wight.
Ken Soar, Condor Group director, said: "We are keenly aware that this will cause anxiety to our colleagues working in the Logistics division in Portsmouth and we are committed to support them at this difficult time.
"Condor Group is offering Condor Logistics employees redundancy packages which exceed the statutory requirements plus a range of support services to help them find new jobs.
"Where possible, staff will be able to apply for jobs elsewhere in Condor Group."
The company also said its trade had "declined substantially" after the scrapping in April of Low Value Consignment Relief, which allowed companies based in the Channel Islands to send low value goods to the UK without paying VAT.