Portsmouth Battle of Trafalgar procession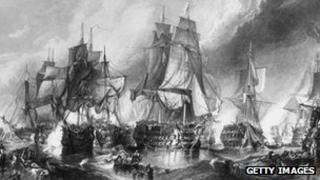 A procession was led through Portsmouth to commemorate the Battle of Trafalgar and remember those who have lost their lives at sea.
The Royal Naval Club and Royal Albert Yacht Club took part in the procession, led by the sea cadet band.
They marched down High Street to Portsmouth Cathedral where a memorial service was held.
Admiral Lord Nelson led the British to victory over the French off the Spanish Coast on 21 October 1805.
'Strong naval heritage'
Following the service, people from the congregation took part in a procession to the Nelson Memorial in Old Portsmouth to lay wreaths.
The procession then continued on to Hot Walls where a final prayer was said and the Mayor of Portsmouth Frank Jones cast a wreath into the sea.
Mr Jones said: "This is a very special service, which lies close to the hearts of many people across the city.
"With such a strong naval heritage it's a very poignant service, remembering those who have lost their lives at sea."