Pedersen deaths: Ben and Freya Pedersen's funeral takes place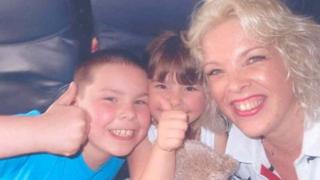 A memorial service has been held in Surrey for two children who were stabbed to death.
Ben and Freya Pedersen, aged seven and six, were found next to a car in Newton Stacey, near Andover, Hampshire, on 30 September.
Police believe their father Michael Pedersen, 51, a former army sergeant from Chertsey, Surrey, stabbed them before killing himself.
The service took place at St Saviour's Church, in Sunbury, at 15:00 BST.
Mr Pedersen, a former member of the Household Cavalry who survived the IRA Hyde Park bombing in London in 1982, had been on an arranged visit with Ben and Freya.
Police said he failed to return them to their mother, Erica Pedersen, at the pre-arranged time. She raised the alarm two hours later.
In a statement, she said: "My angels are in heaven now."