Southampton Airport shuts as plane gets stuck in grass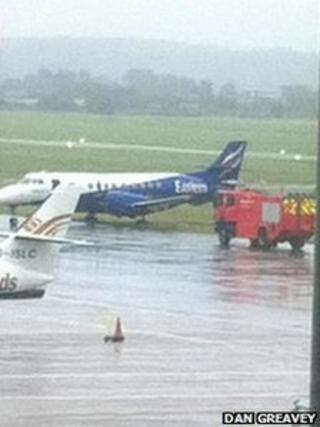 Southampton Airport had to close for 90 minutes after a plane reversed on to the grass before taking off causing an obstruction on a taxiway.
The 16 passengers got off the Eastern Airways flight to Aberdeen at 14:30 BST and instead flew several hours later.
Planes were forced to land at Bournemouth Airport during the closure. The taxiway was cleared at 16:00 BST.
An airline spokesman said: "We have launched an investigation and engineers are inspecting the aircraft."
He added: "Whilst manoeuvring off its parking stand at Southampton the main wheels of the Jetstream 41 aircraft left the paved surface of the taxiway by less than a metre (3ft).
"The 16 passengers on the flight to Aberdeen have disembarked as normal via the aircraft steps and returned to the terminal.
"We apologise to passengers for the resulting inconvenience."
'At a standstill'
The passengers bound for Aberdeen were rescheduled for a flight at 20:00.
The airport experienced other delays following the closure.
Some commuters vented their frustrations on Twitter. Dan Greavey described the airport as being at a standstill.
David Pow tweeted: "Stuck in Southampton airport! Wish I'd went to Scunthorpe! All flights to Glasgow delayed!"
Twitter user @780nm added: "Southampton-Glasgow flight delayed by 2.5hrs. Lots of other delays - some people getting food vouchers some not."