Southampton council leader Richard Williams to be investigated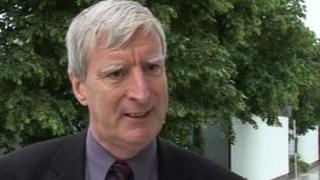 The leader of Southampton City Council is to be investigated over claims of a cover-up following the resignation of one of his cabinet members.
Richard Williams has been accused of forcing his former efficiency and improvement chief Keith Morrell to say he was stepping down on health grounds.
Mr Morrell actually resigned in opposition to Labour policies.
The Conservatives have called on Mr Williams to step down. The council said it would hold an independent inquiry.
Mr Williams has declined to comment on the matter.
The Labour party won power in Southampton in May, vowing to reverse a pay cut for staff imposed by the previous Conservative administration and keep job losses to a minimum.
But the council has delayed publishing budget papers amid fears the budget gap could be as much as £32m.
'Cause damage'
Mr Morrell, who has since been expelled from the party and formed a new group with a fellow member called Labour Councillors Against Cuts, said the forthcoming savings would "decimate services" and lead to numerous job cuts.
He said: "Since I got to grips [with the role in cabinet] I realised I would have to push for the changes and reductions in services that I could not agree with.
"[Mr Williams] said that [my resignation] was going to cause damage to the party and that I was going to be responsible for that.
"Under that kind of pressure I said 'OK Richard, have it your way'."
But when a message went out announcing his resignation on health grounds, he got calls from worried friends and family and said he had to tell them the truth that he was not unwell.
Mr Morrell accepted he had to take some responsibility for the matter but was "glad" an inquiry would be held so the "actual facts are brought out".
Royston Smith, leader of the Conservative group and former leader of the council, said Mr Williams "should go" before the inquiry starts.
Writing on his website, he added: "Councillor Williams is letting this nonsense drag on knowing that any inquiry - independent or otherwise - will come to the same conclusion.
"By refusing to accept and acknowledge how damaging to the council misleading the public is Councillor Williams is allowing thousands of pounds of taxpayers' money to be wasted."
The council's monitoring officer is in the process of appointing the person to lead the inquiry.