Portsmouth site clearing fumes 'making residents ill'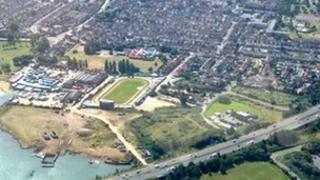 Residents in Portsmouth say fumes from contaminated industrial waste land in the city are making them ill.
The fumes are coming from Tipner, the site of a former chemical works being cleared for new homes as part of a £130m regeneration project.
People living close to the land have reported headaches, vomiting, sore throats and chest infections.
The Homes and Communities Agency (HCA) said tests had shown no detectable risk to health.
The site has had several industrial uses over many years which have resulted in different substances leaking into the ground, contaminating it.
The clear-up operation, which began in the summer, has meant the ground is being disturbed, releasing the smell.
Potentially odorous materials are being covered or "mechanically sealed" outside of working hours and the HCA said it was trying its best to reduce the smell from the site with odour suppressing sprays.
The city council said it had been checking the air for "volatile organic chemicals" (VOCs), which can be harmful, but it said amounts being released were within safe limits.
'Anti-social smell'
But resident Diane Lendrum, who lives in Twyford Avenue, said: "It smells like creosote in a confined environment, at its worst.
"Nearly everybody is reporting some sort of symptoms.
"It depends of which direction the wind is blowing in as to which area of Portsmouth is being affected at the time. It's not just the little bit of Twyford Avenue that is right close to it.
"I'm not disputing whether it's safe or not, my concern is we won't know that for quite a while and behind my house is a school, which is full of children who are also smelling this.
"Our concern is that the smell is just anti-social, but we're not against the development."
Marick Wispanski, project manager for HCA, said: "We have great sympathy and we do understand and acknowledge their concern.
"What we have to bear in mind is what we're trying to achieve here which is a regeneration of a derelict area and we are dealing with a very contaminated site."
Contractors Tamdown will carry on work on the site until next summer, but the activities creating the worst of the odour are expected to be completed by the end of December, he said.
The plans for the site include 1,600 new homes, a new motorway junction, park-and-ride site and hotel.