Southampton Ford Transit union action 'not ruled out'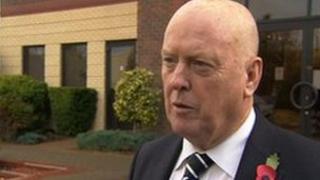 Union members at Ford's Southampton Transit factory say they are not ruling out industrial action over the planned closure of the plant.
The carmaker announced it is to close the factory next summer with the loss of about 500 jobs, along with part of its Dagenham plant.
Unite said any action could hit Ford's production across the UK.
The city council leader has urged the government to make the site an Enterprise Zone to attract business.
Ford has previously said it hoped job losses could be met through voluntary redundancies and relocations.
Roger Maddison, national officer for the automotive industry at Unite, said at a mass meeting at the Southampton plant there was a "unanimous decision" to oppose the closures.
"Industrial action can not be ruled out and if members are balloted it would affect production not just at Ford's plant in Southampton and Dagenham, but across the UK," he said.
Mr Maddison added the union intends to hold meetings with members at other businesses which would be affected by the closure.
Enterprise Zone
Ford has blamed the European financial crisis for a drop in sales. Production from Southampton is set to move to Turkey where workers are paid about £4 an hour.
Leader of Labour-run Southampton council Richard Williams said he would raise the consequences of the Ford closure with the Deputy Prime Minister, Nick Clegg, at the launch of the City Deals initiative.
He urged the government to consider making the Ford site an enterprise zone.
He said: "We've got to strike while the iron's hot - and make sure that there are opportunities for business development and investment there, otherwise if we just sit back and wait for things to happen, nothing will."
Doug Morrison, from Solent Local Enterprise Partnership, said he "remained to be convinced" that an enterprise zone was a good idea.
The idea is to be discussed at an emergency meeting of business leaders on Thursday.
Mr Morrison said: "One of the things Ford workers don't want to hear is lots of people sitting around having lots of meetings and discussing things and no outcome.
"What we would like to think on Thursday is that we will get together and come up with some action points."
The Ford job losses are the latest in a line of cuts in Southampton from the likes of British Gas, Skandia, Vosper Thornycroft, B&Q, HSBC, British American Tobacco and the University of Southampton.
The government announced locations for enterprise zones in England in 2011 to try to boost economic growth by offering cheaper business rates, superfast broadband and lower levels of planning control.