Portsmouth brain tumour research centre opens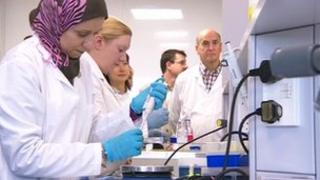 A new centre for research into brain tumours has opened in Portsmouth.
The Alison Phelan Memorial Laboratory at the University of Portsmouth is named after a seven-year-old girl who died of a brain tumour in 2001.
Brain tumours are a leading cause of cancer deaths among under 40s.
The Ali's Dream charity aims to raise £1m a year to support Portsmouth researchers in working to discover new treatments and towards a cure.
The lab is the first of seven dedicated centres of excellence around the UK which the charity plans to set up for brain tumour scientists to share their skills and research findings.
Alison Phelan's mother and brother performed the official opening earlier.