Southsea's South Parade Pier to partially reopen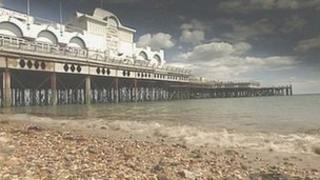 Part of Southsea's South Parade Pier is to re-open following an inspection.
The pier was closed on Wednesday by the council and its owners, SPP South Coast Ltd, following safety concerns.
Checks by building surveyors have allowed the concessions at the front, including a newsagents and ice cream parlour, to resume trading.
Gerald Vernon-Jackson, Portsmouth City Council said: "The rest of the pier must remain closed as it is supported by steelwork in a dangerous condition."
Closure notices, added security and fencing have been put up along the beach to the waterline to prevent anyone from entering the area.
Mr Vernon-Jackson said: "It is the responsibility of the owners to make sure the structure is safe, however we have a duty to step in if a building becomes a danger to the public."