Isle of Wight tidal energy scheme gets Crown go-ahead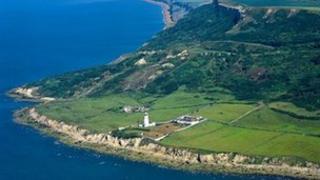 A tidal energy testing site is to be created on the seabed off the coast of the Isle of Wight.
The island's council wants to allow prototype energy turbines to be installed off St Catherine's Point as part of its Solent Ocean Energy Centre project (SOEC).
It hopes SOEC will become a managed tidal energy test facility, generating 20MW - enough to power 8,000 homes.
The Crown Estate has granted permission and work could start in 2015.
Construction at the site is hoped to start in 2015.
'Major advance'
A spokesman said the agreement would help attract private sector investment into the project and allow the council to apply for construction consents.
The authority has already pledged £1m towards the SOEC and has secured nearly £700,000 of European funding.
Isle of Wight economy councillor George Brown said: "The agreement with the Crown Estate represents a major advance in our plans.
"With this agreement in place we can drive the project forward on two fronts - firstly providing the necessary infrastructure for pioneering tidal energy companies and then working to attract those pioneers and their investment to SOEC and the island."