London 2012 Olympics: Hampshire economy's £50m boost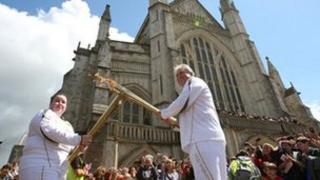 The London 2012 Olympics brought almost £50m to Hampshire's economy and reduced crime by 15%, a new report suggested.
Hampshire County Council's report on the legacy of the games found that it came from a boost in business contracts and Olympic Torch interest.
Keith Chapman, executive member for culture and recreation, said: "The real challenge [is] keeping up this positive momentum".
Hampshire Constabulary said people came together "in a spirit of celebration".
The Olympic Torch spent more time in Hampshire than in any other county, with about 450,000 residents lining the streets and spending approximately £10m in local businesses.
The 183 Olympic business contracts with Hampshire firms generated a further £36m.
Mr Chapman added: "The Olympics may be behind us, but they have left a fantastic legacy not only in Hampshire, but throughout the country as a whole."
The figures were gathered from Locog and the Olympic Delivery Authority.