Oxford's Botley Road closed due to burst water pipe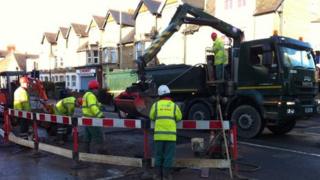 A water company has said it is "sincerely sorry" after a burst main caused delays on a major Oxford road.
The A420 Botley Road was shut at about 22:00 GMT on Saturday while engineers from Thames Water repaired a five inch main in the middle of the street.
Following repairs and resurfacing the road reopened at 13:00 BST on Sunday.
Stuart White, from Thames Water, said: "We do sincerely apologise but we've worked all through the night to get this done as quickly as possible."
He added: "It's a busy road and we appreciate it's a main road going into Oxford."
More than 80 properties were left without water overnight.
Cold snap
An Oxfordshire County Council spokesman said some motorists had ignored diversions and pushed past the works.
Phil Ashworth, from the Oxford Bus Company, said the work had caused delays.
He added: "The Botley Road is not the best of places to have out of action and one of the Christmas Sundays leading up to the festivities is not the time you would pick.
"It's quite ironic that it's a water main that's done it after we managed to keep running along the Botley Road during the floods."
John Seward, from Eggs Eggcetera, said he had seen a 50% drop in business in his shop.
He said: "Trade in general has been very quiet this morning.
"We've got quite a few Christmas trees to sell and we rely on passing trade for those, as we can't expect locals to buy all our trees."
Mr White said the recent cold snap could have been a factor in causing the burst main.
"The old cast iron pipes tend to contract and this creates millions of tiny hidden gaps and sneaky leaks to appear and it weakens the mains," he said.