British man Adam Robinson, 21, denies US sex charges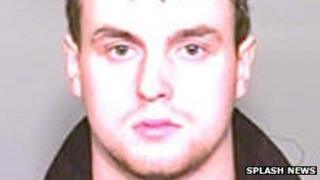 A British man has pleaded not guilty to six charges of sexually assaulting a 13-year-old girl in the United States.
Adam Robinson, 21, is accused of committing "lewd acts upon a child" between 15 and 23 December.
Mr Robinson, from Fleet, Hampshire, is accused of meeting the girl online with the alleged offences taking place in a motel in Redlands, California.
He appeared at San Bernardino Superior Court earlier and will face a further hearing on 9 January.
A defence lawyer has been appointed for Mr Robinson with bail set at £620,000.
Court papers prepared for the Californian court allege four of the offences took place on 15 December with two others on 23 December.
The girl turned 14 on Christmas Eve.