Ian Molyneux inquest: Intended target describes escape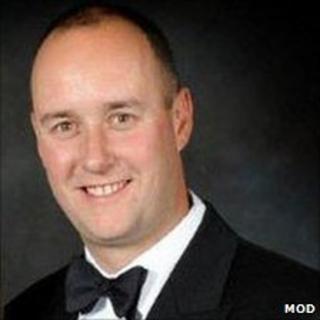 The intended target of a gunman who went on a shooting spree onboard a nuclear-powered submarine has told an inquest how he escaped the bullets.
Lt Cdr Ian Molyneux, 36, of Wigan, Greater Manchester, was shot at close range on board HMS Astute when it was docked in Southampton in April 2011.
Able Seaman Ryan Donovan was jailed for at least 25 years for murder.
Chief Petty Officer David McCoy jumped to safety between decks as Donovan approached him "squeezing the trigger".
The Southampton inquest heard how CPO McCoy, 37, and Petty Officer Christopher Brown, 36, were Donovan's intended targets.
Donovan was supposed to have cleaned a part of the sub but had disobeyed orders and his transfer for an operational tour on RFA Cardigan Bay was cancelled.
CPO McCoy said: "In his eyes, when he saw me and Brown we were the bad guys, the ones who stopped him going on his operational tour."
'Smoking barrel'
The 23-year-old navigator yeoman, who admitted murder, also pleaded guilty to attempting to murder them and Lt Cdr Christopher Hodge, 45, who he shot in the stomach.
Richard Wilkinson, counsel for Lt Cdr Molyneux's family, said four other sailors said Donovan did not get on with CPO McCoy and PO Brown and a previous captain said they had "rode him hard".
Describing the shooting, CPO McCoy told how he saw Donovan coming towards him firing the SA80 rifle.
"I saw smoke coming out of the barrel," he said.
"He was 10 feet away, squeezing the trigger. I took a leap down a ladder to the lower deck."
CPO McCoy said. said he had no idea that Donovan was going to start the lethal attack.
"If I thought it was going to happen, I wouldn't have turned my back on someone with a rifle and 30 bullets."
The jury heard Donovan drank more than 20 pints of cider and lager, cocktails and double vodkas in the 48 hours before the attack.
Mr Wilkinson said other sailors told police they saw Donovan arriving for duty in an inebriated state.
The inquest continues.