Portsmouth and Isle of Wight prisons among seven to be closed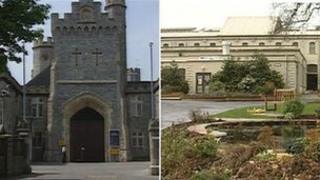 A jail in Portsmouth and one in the Isle of Wight are among seven in England which are set to be closed with hundreds of potential job losses.
It is thought HMP Kingston in Portsmouth and Camp Hill on the Isle of Wight could shut by April after the Ministry of Justice (MoJ) announcement.
The category C prisons hold a total of almost 800 inmates.
Unions have claimed about 300 jobs could be lost. The MoJ said it would seek to redeploy staff where possible.
Brian Traynor, Prison Officers Association (POA) representative for the region, said: "This is going to devastate communities.
"Voluntary redundancy will allow people to go with some kind of package. But there is no work in the community."
Camp Hill Prison is part of HMP Isle of Wight along with Parkhurst and Albany prisons, which are to remain open.
Isle of Wight MP Andrew Turner, Conservative, said of the closure announcement: "This is very disappointing and I am, of course, very concerned about this announcement and the ramifications for island residents and the local economy."
Liberal Democrat Portsmouth South MP Mike Hancock described the closure of HMP Kingston as "a real blow for Portsmouth".
"It will run into many hundreds of jobs. It's not just the community inside the prison, it's the wider community that services such a big establishment as a prison."
There will be 2,600 fewer places across England in a move that is estimated to save about £63m a year.
The MoJ plans to build a 2,000-place new super prison in London, north-west England or north Wales.
Justice Secretary Chris Grayling said: "We have to bring down the cost of our prison system, much of which is old and expensive.
"The Isle of Wight has always been an important centre and will carry on being an important centre, but you do need to take difficult decisions about older facilities at times when you are looking to save money, modernise and bring down costs."
POA members on the island plan to meet on Friday to discuss what action to take.