Isle of Wight cocaine yacht trial: Man 'unaware of drugs'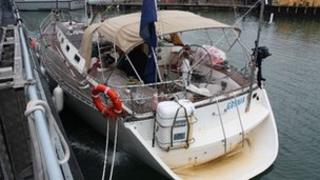 A man caught on a yacht on which £90m of cocaine was found hidden had "no idea" the drugs were there, a court heard.
Piotr Pachnia, 33, said he joined the yacht for a holiday but was unaware of the 454kg (996lb) haul.
He was arrested after UK Border Agency officials found the drugs during a search of the boat at Portsmouth Naval Dockyard, Hampshire, in June 2012.
Mr Pachnia, of no fixed abode, denies possessing a controlled Class A drug.
He told a 12-strong jury at Portsmouth Crown Court he took $10,000 (about £6,300) from savings and money given to him by his mother-in-law on the trip.
Mr Pachnia said marriage problems prompted him to join captain and co-defendant Thomas Dylik, 48, onboard, but that he did not know where they would be travelling to.
Met online
The father-of-two said he contacted Dylik - who has already admitted drug offences in connection with the case - on the internet and did not know him prior to the trip.
Prosecutor Adam Feest asked him: "You were going to take some drugs from South America to bring them back to England, weren't you?"
Mr Pachnia, who spoke through an interpreter, replied: "No".
Both Mr Pachnia and Dylik were arrested after customs officials tracking the yacht Baila boarded the vessel south of the Isle of Wight.
The cocaine was found behind false walls, hidden in compartments and a holdall.
The court heard the cocaine had an average purity of 90% and had a street value of £90m.
The yacht was returning from St Lucia in the Caribbean when customs officials started tracking it in the English Channel near Plymouth on 8 June.
Three officers boarded the vessel when it entered UK territorial waters 11 miles (18km) south of St Catherine's Point the following day.
They escorted Baila to Portsmouth amid suspicions illegal drugs could be hidden on board after three swab tests revealed traces of illegal substances, the court was told.
Officers also found food from South America, Panama and the Dominican Republic on board.
On searching the yacht, officers discovered more than 470 packages and cylinders of cocaine, the jury heard.
The trial continues.