Woman liable after husband's £3,600 debt rises to £97,000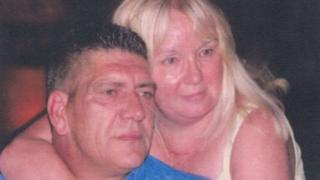 A Hampshire widow was chased for a £97,000 debt which had grown from a £3,600 car loan originally taken out by her late husband.
Brenda Caines, from Warsash, faced losing her home over a loan agreement for a 1998 Vauxhall Vectra with Yes Car Credit.
Phil Caines started an agreement in 2004, returning the car when he fell behind on repayments.
Yes Car Credit closed and the debt was transferred to a purchasing company.
When Mr and Mrs Caines returned the car in 2005 and Yes Car Credit sold it at auction, the couple thought the matter had been settled, but part of the debt remained outstanding.
Shortly afterwards, Mrs Caines remortgaged her home to pay for a new kitchen and added her husband's name to the deeds.
She was unaware he was in financial difficulty and about to be declared bankrupt.
Mr Caines died suddenly in 2009 and his debt was transferred to his wife.
Go Debt, who bought the debt from the Yes Car Credit and began pursuing Mrs Caines for the money.
By this time, solicitor and trustee fees had seen the debt grow to £97,000.
When someone is declared bankrupt, a trustee is appointed to take control of assets and pay creditors. The trustee is entitled to be paid for what are likely to be complex negotiations.
'Immense power'
Mrs Caines was advised to sell her house and pay the debt.
She said: "It seems like they have this immense power, not only to put you in a position where you're terrified, but to take everything you have ever worked for in your life.
"You go to bed in terror, you get up in terror.
"I was afraid each time I'd come home. I had visions of bailiffs knocking on the door and evicting me."
The BBC's Inside Out programme took Mrs Caines' case to consumer lawyers who, following months of negotiations, managed to save her home.
Solicitor Dean Dunham said: "£97,000 fees on a £6,000 bankruptcy is not right.
"There was going to be a way of dealing with this either by showing the trustee 'this is not right and you're going to have to reduce them', or by showing a judge in court proceedings that that was the case.
"Brenda didn't know which way to turn and therefore she thought this was normal.
"She had a trustee telling her these are the fees, you're going to have to pay."
Mr Dunham has also managed to reduce her debt to £20,000, including trustee fees of £10,000.
In a statement, the trustee's office said: "Since being appointed in June 2010, the trustee has taken every step to fulfil his statutory duties as sensitively as possible.
"The trustee has given Mrs Caines the maximum time possible and every opportunity to resolve this matter, and has worked hard to keep costs to a minimum."
Go Debt declined to comment.
When asked if she regretted adding her husband's name to the deeds of the house, Mrs Caines said: "When I found out about his bankruptcy, I was so angry.
"He didn't tell me to begin with, but he had to eventually when he was forced to go to the insolvency agency.
"He would hide away letters in drawers and was the kind of person who thought if you put something away out of sight, it didn't exist."
BBC Inside Out South is broadcast on Monday, 28 January on BBC One at 19:30 and on the iPlayer nationwide for seven days thereafter.