Andover's town mill waterwheel rebuilt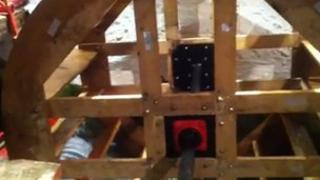 An 18th Century waterwheel which has not turned for 14 years has been rebuilt and reinstalled at an old flour mill in Hampshire.
The £7,000 waterwheel at The Town Mills pub in Andover was part-funded by the community following a five-year appeal for donations.
The wheel, which is 8.5ft (2.59m) in diameter, is the same design as the original wheel which was built in 1764.
The building ceased as a flour mill in 1974 and has been a pub for 25 years.
Landlord Pete Richards described the waterwheel, which also received funding from Wadworth brewery, as a "real community project".
"The work has been carried out by Andover craftsmen and all the materials have been locally sourced.
"It will help to retain the character and ambience an historic building like this deserves," he added.
The waterwheel, which was last reconstructed in 1987, will be officially opened by Mayor of Test Valley, Councillor Dorothy Baverstock, at 19:00 GMT.