Hampshire police commissioner to review Alpha Park move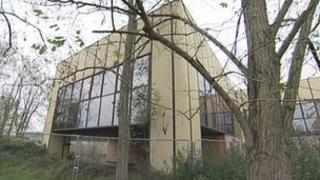 The future of a site near Eastleigh, originally bought as a new headquarters for Hampshire Constabulary, has been thrown in to doubt.
Alpha Park has stood empty since being bought for £9.2m in 2008 after the force's headquarters in Winchester was deemed not fit for purpose.
Now police and crime commissioner Simon Hayes has raised concerns about the site's future.
He has appointed an advisor to draw up a new strategy for the police's estate.
The now defunct Hampshire Police Authority announced in September some services would move to the site as part of an £83m redevelopment plan.
Plans for the move also included purchasing a building Winchester city centre.
'Bold step'
Mr Hayes said he believed the Alpha Park review was necessary.
He said: "It is vital that we have the right estate from which to conduct our business and keep the public free from harm. It is expensive to create and operate, so the strategy must be right for the future."
The force's estates redevelopment plan includes investment in custody provision and officer space.
It was described as "cost neutral" with receipts from the sale of some existing buildings being used for new projects.
John Apter, chairman of Hampshire Police Federation, said: "It's good to see that the police and crime commissioner is grasping this mettle and dealing decisively with this long-running saga.
"It is always good to look at things with a fresh pair of eyes. We support the police and crime commissioner in making this bold step."
Hampshire's force is trying to save £54m by April 2015 due to government spending cuts.
Some police stations and front desks have closed, up to 1,100 police officer and staff posts are set to be axed and some services are being shared with neighbouring forces in a bid to reduce costs.
On Friday, the commissioner's proposal to increase the policing element of council tax in Hampshire and the Isle of Wight by 3.4% was approved by Hampshire Police and Crime Panel.