Three Southampton youth centres saved from closure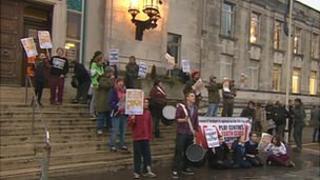 Three youth centres have been saved from closure following a U-turn decision by a council in Hampshire.
Newtown Youth Centre and Woolston and Millbrook Youth Projects in Southampton were earmarked for closure but will now be funded for the next financial year.
Southampton City Council announced it was putting £190,000 back into its youth budget at a meeting on Tuesday.
Protesters have welcomed the move but pledged to continue to fight other closures including Northam Youth Club.
Save Southampton City Youth Centres said any closure was "one too many".
Campaigner Nick Chaffey, from the group, said: "If you don't give them [young people] support many of them with end up costing us far more being put into detention centres."
The authority said the extra funding had arisen after it received more money than expected from central government.
It had been looking to save £651,000 in the next financial year.
Councillor Simon Letts said the council would "look actively" to secure the long term future of the three centres.
He added the authority would also "make a commitment" to ensure young people could attend another centre close to them if their centre closed.