Eastleigh voters react to Chris Huhne resignation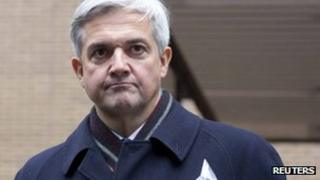 Former cabinet minister Chris Huhne is to resign his Eastleigh seat after pleading guilty to perverting the course of justice over claims his ex-wife Vicky Pryce took speeding points for him a decade ago.
Mr Huhne was first elected as MP for the Hampshire town in a close-fought battle with the Conservatives in 2005 having previously served as an MEP for six years.
He retained his seat in the 2010 General Election with almost 50% of the vote and a majority approaching 4,000.
BBC News went to his constituency to ask people what they thought about his decision to step down.
Eastleigh voter Pearl Blake, 72
"He has spoiled things for the people who voted for him.
"I am not a Lib Dem and I would never have voted for him.
"This has been going on a long time.
"I am very pleased that he has chosen to resign."
Dereck Spencer, 73, from Chandler's Ford near Eastleigh
"I think this does change my chances of voting for the Lib Dems.
"But it might not change other people's minds.
"You can't have much trust or faith now.
"You get this all through Parliament and you don't know who you can trust."
Terence Kingsbury, 72, from Eastleigh
"He obviously shouldn't have broken the law.
"[But] we like the man.
"The Lib Dems always seem to be the ones that do more locally for you and they listen to you.
"I have met Chris Huhne when he came to our door and he was very charming."
Carol Hoare, 59, from Eastleigh
"I don't know what to say really.
"I don't usually worry about what they [politicians] do and I'm not against him.
"I voted for him last time and I would vote for him again.
"He has done a lot of good for the community here so I won't knock him."