HMS Queen Elizabeth final section leaves Portsmouth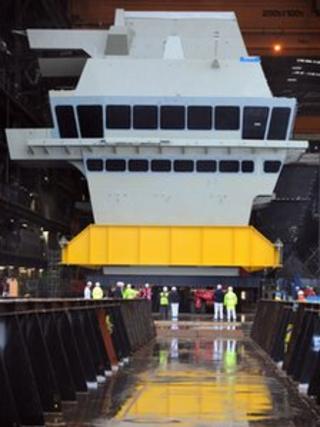 The final Portsmouth-built section of the first of the Royal Navy's new aircraft carriers has started its voyage to Scotland.
The "forward island" of HMS Queen Elizabeth, known as Upper Block 07, contains the main bridge of the ship.
It was moved to the outer perimeter of the BAE Systems shipyard by barge.
The forward island earlier left Portsmouth Naval Base for its sea voyage to Rosyth, where the ship's final assembly will take place.
The island, which weighs 680 tonnes, is scheduled to be lifted on to HMS Queen Elizabeth in March.
The vessel, which is mainly being constructed in Portsmouth and on the Clyde in Glasgow, will have two islands - the second will operate as an aircraft control tower.
HMS Prince of Wales is the next aircraft carrier to be delivered by the Aircraft Carrier Alliance, which consists of BAE Systems, Thales UK, Babcock and UK Ministry of Defence.
The navy said the 65,000 tonne Queen Elizabeth Class aircraft carriers, which will be based in Portsmouth, will be the "centre piece of the UK's military capability".