Agim Hoxha murder trial: Accused 'sent it is finished text'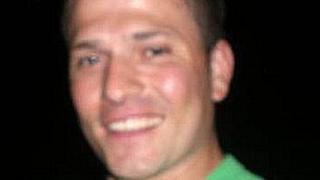 A man on trial for murder set light to a car which contained the victim's body before texting his co-accused "it is finished", a court has heard.
Albanian drug dealer Agim Hoxha, 29, was found in his burnt-out Mercedes in Chilworth Drove, Chilworth, Hampshire, on 10 April last year.
Arben Lleshi, who has admitted torching the car, sent the message to fellow defendant Afrim Lleshi, it was heard.
The pair, who are not related, both deny murder.
The court heard Arben Lleshi, 25, of Onslow Road, Southampton, sent a message which read "mbarova" to Afrim Lleshi, 37, of Shirley Road, Southampton.
The jury heard the term was Albanian for "it is finished" or "I am finished".
He denied the message meant he had managed to get rid of Mr Hoxha's body and the car.
'Splattered with blood'
Winchester Crown Court has already heard Arben Lleshi and Mr Hoxha met in 2006 and began selling cocaine together around Southampton.
Arben Lleshi told the jury he believed he was destroying evidence of a robbery when he set fire to the Mercedes and had no idea Mr Hoxha was inside.
He also denied removing his jacket before setting the car alight.
Prosecutor Nicholas Haggan QC said during cross-examination: "When you set off, Mr Lleshi, you were wearing something else, weren't you, perhaps a top that had been splattered with Mr Hoxha's blood when he was killed?
"It's one of the reasons that your arms got burnt - you had taken your jacket off before you threw the match in."
Arben Lleshi replied: "No sir, it's not true".
The jury has been told traces of Mr Hoxha's blood were found in a flat for which Arben Lleshi had just paid a deposit in Shirley Road - next door to Afrim's home.
The stains suggest at least two blows were struck, the court heard.
But when Mr Haggan QC suggested Arben Lleshi knew "exactly what went on in that flat," he replied: "If I knew I would clean properly the flat, I would never leave any DNA, anything in the flat."
He added: "I would even burn the flat."
The trial continues.