Eastleigh by-election: retired doctor is candidate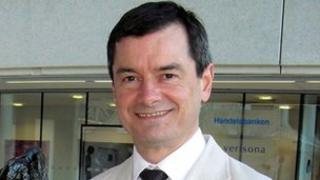 An ex-Royal Navy medical officer is to stand for the National Health Action Party in the Eastleigh by-election after disgraced Chris Huhne quit.
Dr Iain Maclennan, 54, from Bursledon, Hampshire, has vowed to seek "constant improvement of the NHS" if elected.
Mr Huhne, 58, quit as an MP after admitting perverting the course of justice over claims his ex-wife took speeding points for him.
The by-election for the Eastleigh seat is due to take place on 28 February.
'NHS champion'
Dr Maclennan said he wanted to give a commitment to "debate major issues in the local media, public meetings and social media before voting".
The retired former consultant in public health in Hampshire served for 10 years in the Royal Navy.
Joint Party leader Dr Richard Taylor said: "I am delighted Iain has agreed to stand as the National Health Action Party candidate for the Eastleigh by-election.
"His wide experience of the NHS and health care issues will make him an ideal MP to fight for the preservation of the original ideals of the NHS and for the rights of the disadvantaged."
Meanwhile Maria Hutchings, who finished second behind Chris Huhne in the 2010 election, is standing for the Conservatives.
Party chairman Grant Shapps described her as someone "people in Eastleigh can trust".
No other parties have revealed their candidates.
However UKIP leader Nigel Farage has said he will not be standing.
The Lib Dems held the seat with a 3,864-vote majority in 2010.