Elderly woman rescued from arson attack on house in Romsey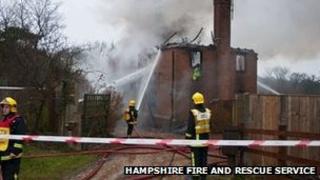 A woman in her 80s had to be rescued from her home in the grounds of a school in Romsey after a suspected arson attack.
About 40 firefighters were called to Stroud School in Highwood Lane, in the early hours of Saturday where they found the woman inside the house.
She was taken to hospital to be treated for smoke inhalation. Her injuries are not thought to be life-threatening.
A fire damaged vehicle was found parked next to the house.
The detached two-storey house has was completely destroyed.
Police have started an investigation and are appealing for witnesses.