Agim Hoxha murder trial: Accused 'admitted the killing'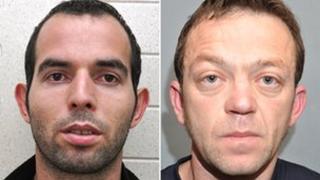 One of two men on trial accused of murdering a drug dealer in Southampton has told a court his co-defendant admitted the killing.
Agim Hoxha, from Albania, was found in his burnt-out Mercedes in Chilworth Drove, Chilworth, Hampshire, in April.
Afrim Lleshi took the stand at Winchester Crown Court on Monday and said fellow defendant Arben Lleshi told him he had killed 29-year-old Hoxha.
The pair, who are not related, both deny murder.
Afrim Lleshi 37, of Shirley Road said he had known Arben Lleshi, 25, of Onslow Road, Southampton, for several years.
He said he had bought cocaine from Arben Lleshi, and once put him up for a month.
On 10 April, the evening of the killing, he claimed Arben Lleshi came to his flat and asked to stay there while he waited for a friend.
Afrim Lleshi then went to a casino to play poker, the court heard.
When he returned later that night, he said an ornate knife he had kept near his bed had gone, and so too had Arben Lleshi.
He said he then went to bed.
He told the court Arben Lleshi came back to the flat at about midnight, clearly upset.
He claimed Arben Lleshi told him that he had killed Hoxha, saying it had been an accident and that he had hit him just once because Hoxha had threatened him over a drugs debt.
Afrim Lleshi said that he was deeply shocked and suggested calling the police.
Afrim Lleshi told the court Arben Lleshi then left the flat. He phoned soon after, asking Afrim Lleshi to come next door because Hoxha was still breathing and he needed help getting him to a hospital.
He said went up to the flat and saw a body wrapped in plastic bags and bed linen.
He told the court he felt he had no choice, so he helped take the body downstairs and put it into a car outside.
Under cross examination he admitted that he had told lies to the police when arrested.
He said he had denied disposing of body because he was frightened and confused.
Winchester Crown Court earlier heard that Arben Lleshi and Mr Hoxha met in 2006 and began selling cocaine together around Southampton.
Arben Lleshi told the jury he believed he was destroying evidence of a robbery when he set fire to the Mercedes and had no idea Mr Hoxha was inside.
The trial continues.