Portsmouth councillors approve budget cuts of £9m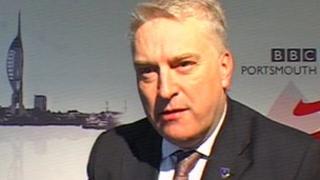 Spending cuts of an extra £9m will ensure the most vulnerable people in Portsmouth still get the help they need, according to the city council's leader.
Gerald Vernon-Jackson said the extra savings, which come on top of £8m worth of cuts agreed in December, had been "very difficult".
The budget will see the city's council tax precept rise 1.95% following three years of freezes.
A total of 130 posts are to be axed.
'Very difficult'
Mr Vernon-Jackson said: "We are investing to make sure there are jobs in the city, there is wealth in the city, that kids get a good education and we are putting money into the most vulnerable families in the city.
Under the approved plans six of the city's adventure playgrounds are to transfer to the voluntary sector, saving about £100,000.
Children's centres are to be merged, reducing the total from 16 to nine.
But an extra £1.6m is to be ploughed into social care for children and adults.
Schools are to receive a £6.8m boost which will be invested in school buildings to provide additional 1000 school places.
More than 300 places will be created by a brand new scheme to build a new primary school at Mayfield Secondary school site in the city.
There is also an increase in funding for eligible families to apply for 15 hours of free childcare for two-year olds and the number of health visitors in the city will double.
However Labour councillors told of their "'disappointment" that their amendments, which included demolishing leisure complex The Pyramids in Southsea, did not go through.
John Ferrett, Labour group leader, said: "We put forward an amendment which would cancel some of the capital programme and demolish The Pyramids .
"Whilst that would have cost just over £1m, it would have freed up £700,000 on an ongoing basis.
"It would have enabled us to keep open four or five of the children's centres that are under threat."
Meanwhile Isle of Wight Council is seeking to reduce its spending by £7m.
Its council's cabinet earlier supported measures including freezing council tax for a third consecutive year.
An £8.7m investment in adult social care is proposed over the next three years, while plans to spend £475,000 on improving child safeguarding and services for vulnerable children were also backed.
Council leader David Pugh said: "It's very helpful to have a clear decision on the proposals that will deliver a balanced budget this year."
Proposals are to be discussed at a full council meeting on 27 February.