Eastleigh by-election: David Cameron in campaign visit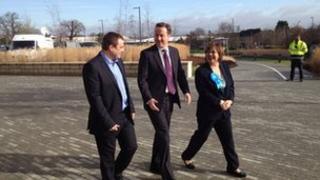 The prime minister has visited Eastleigh to support his party's by-election candidate.
David Cameron arrived at 10:30 GMT to back Conservative Maria Hutchings, who he called a "brilliant candidate".
He began the visit by answering questions from B&Q staff at the firm's head office in Eastleigh.
Lib Dem leader Nick Clegg and UKIP's Nigel Farage also visited Eastleigh in recent days. The full list of candidates was confirmed on Wednesday.
Mr Cameron was asked if a Lib Dem win in the by-election would "de-stabilise" the coalition.
He said: "I would argue the most important consideration is who is the person and what would they be like as your MP."
Speaking about Mrs Hutchings, he added: "She lives here, she is a local mother with four children, she is a local businesswoman."
He told the audience he met Mrs Hutchings, who has two disabled children, in 2005, when he was shadow education minister to speak about special educational needs.
"I remember being very impressed with Maria's complete passion about this subject," he said.
In a brief speech, Mrs Hutchings emphasised her local links and said she would be "an MP you can trust".
A few Eastleigh voters got a surprise visit from the prime minister when he joined Mrs Hutchings handing out leaflets door-to-door.
The vote will take place on 28 February.
The final list of candidates in alphabetical order is:
COLIN BEX - Wessex regionalists
DAVID BISHOP - Elvis Loves Pets Party
JIM DUGGAN - Peace Party
RAY HALL - Beer, Baccy and Crumpet Party
HOWLING LAUD HOPE - Monster Raving Loony William Hill Party
MARIA HUTCHINGS - Conservative
DIANE JAMES - UK Independence Party
DR IAIN MACLENNAN - National Health Action Party
KEVIN MILBURN - Christian Party "Proclaiming Christ's Lordship"
JOHN O'FARRELL - Labour
DARREN PROCTER - Trade Unionist and Socialist Coalition
DANNY STUPPLE - Independent
MIKE THORNTON - Liberal Democrats
MICHAEL WALTERS - The English Democrats - "Putting England First!"