Eastleigh housing: Council to decide on 1,400 homes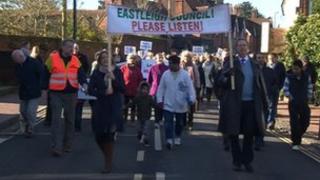 Opponents of a "massive" housing plan have urged councillors to reject it.
Eastleigh Borough Council will consider plans for 1,400 homes on a 180-acre site at Boorley Green, later.
A consortium of landowners want to sell the site near Botley, but protesters have warned the new homes would "swamp" the existing community.
The site is currently farmland and a golf course. The council's committee for Hedge End, West End and Botley will make the final decision.
Chris Tapp, of Botley Parish Action Group, said the area needs more housing but questioned the scale of the plan.
He said the proposed housing estate would be "isolated" in the countryside, causing traffic problems because people would have to drive to access shops and other facilities.
The council estimates it needs 9,400 new homes in the borough over the next 18 years.