Winchester jewellers targeted in £30,000 Pandora raid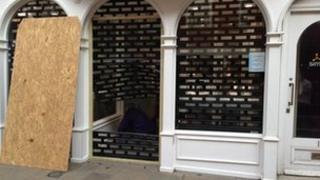 A shop owner has told of her distress after burglars stole £30,000 of distinctive jewellery in a late-night raid at her Hampshire store.
Three men took just minutes to steal hundreds of Pandora charms and bracelets in a break-in at Bellis in Winchester High Street late on Sunday.
The gang smashed through metal shutters and a door to get in to the premises.
A 44-year-old Southampton woman was arrested and later bailed on suspicion of conspiracy to burgle.
Owner Sarah France, 52, said the stolen jewellery is believed to be worth £30,000. She added: "There was a lot of damage . They kicked the outside shutter in. It took them quite a long time. There were quite a lot of people walking past. Several of them phoned the police.
"Once they got in they managed to smash the door in. They headed straight for the Pandora cabinets. They were in and out within two minutes.
"They took hundreds of beads and bracelets. They knew exactly what they wanted."
The burglary marks the third time one of Ms France's jewellery shops has been targeted in the city.
Armed robbers raided Jeremy France jewellers in November 2005 and December 2006.
Ms France has vowed not to let the latest burglary affect her.
She added: "You can't let these little things bother you. We will be open for business by Thursday."
Acting Det Sgt Ewan Gardner said: "Pandora jewellery is distinctive and I would like to hear from anyone who may have been offered any Pandora items for sale."