Eastleigh housing: Council grants planning permission for 1,400 homes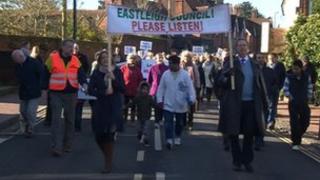 Plans to build 1,400 homes in Hampshire have been approved by councillors.
The decision by Eastleigh Borough Council will allow the development of a 180-acre site at Boorley Green.
A consortium of landowners is selling the site near Botley, but protesters said the new homes would "swamp" the existing community.
Chris Tapp, of Botley Parish Action Group, said he was "very disappointed" at the decision saying the council had acted as "judge and jury".
"The council have been promoting this for the past 18 months and last night they were the judge and jury," he said.
Liberal Democrat leader of the council, Keith House, denied it was a done deal and said the "issues were very closely argued".
He added the site was allocated for development after "two very lengthy consultation processes" and the developer "had to work very hard to meet stringent tests".
The site is currently farmland and a golf course. The council's committee for Hedge End, West End and Botley made the final decision.
They approved plans that include a mix of houses, a primary school, shops, employment sites and a community orchard, which will be built in phases over the next 10 to 12 years, Mr House said.