Basingstoke nightclub armed raid: CCTV images released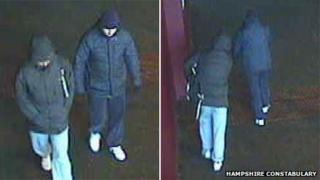 CCTV images of two men who police want to speak to in connection with an armed robbery at a nightclub in Hampshire have been released.
A male staff member at Wonderland in Basingstoke, was tied up and threatened with what is believed to have been a handgun on Monday at about 13:20 GMT.
Police said the men, described as white and who had their faces covered, stole more than £10,000 during the raid.
The 34-year-old victim was not injured. Detectives are appealing for witnesses.
'Highly populated'
Det Con Richard Chegwidden said: "It is very unusual for an incident like this to happen in broad daylight.
"It is usually a highly populated area in terms of footfall and traffic at this time of day."
The robbers made off with the cash towards Church Street.
Hampshire Police said one of the men was wearing a black padded jacket and dark-coloured trousers. The other man was wearing grey trousers and a dark-coloured jacket.
Officers said they were "very keen" to speak to two pedestrians who separately crossed over Churchill Way towards the nightclub and also the driver of a red car who turned into an underground parking area nearby around the time of the robbery.
Stop-checks of motorists on Churchill Way were carried out by police earlier, 24 hours after the robbery.