'Naked rambler' Stephen Gough remanded in custody on Asbo charge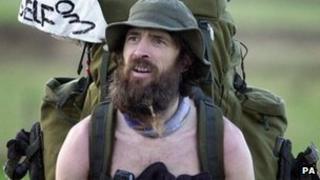 A man known as "the naked rambler" has appeared in court charged with breaching an Anti-social Behaviour Order a day after it was imposed.
The interim order, granted by magistrates, states Stephen Gough, 54, must wear clothing that "at least cover his genitalia and buttocks" in public.
He denied he had breached the order by walking out of court naked on Thursday minutes after it had been imposed.
He was remanded in custody to appear at Southampton Crown court on 25 March.
The interim Anti-social Behaviour Order (Asbo) imposed on Mr Gough, of Chamberlayne Road, Eastleigh, is effective for all of England and Wales until 10 May.
If orders are broken offenders can be imprisoned.
It was granted on Thursday after a joint application by Eastleigh Borough Council and Hampshire Constabulary.