Isle of Wight's Camp Hill Prison staff 'in dark over closure'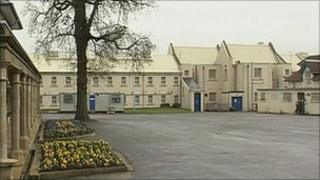 Isle of Wight prison staff have accused the Ministry of Justice (MoJ) of treating them "appallingly", following its announcement to close jails.
Camp Hill near Newport will close by the end of the week as a cost-cutting measure by the MoJ's Prison Service.
But the Prison Officers' Association (POA) said "distressed" staff were still not told about their job future.
The Prison Service said it was working with trade unions to "avoid compulsory redundancies as far as possible".
'Drive down costs'
The Category C Camp Hill Prison is one of seven prisons closing in England, as announced in January.
It is part of HMP Isle of Wight along with Parkhurst and Albany prisons, which are to remain open.
A Prison Service spokeswoman said Camp Hill was closing as part of a "determined" effort "to drive down the cost of running our prisons".
She added: "We are replacing older accommodation that is expensive to run with newer, cheaper and more efficient accommodation that will provide better value for money."
She would not confirm the amount of job losses.
'Stressful time'
But POA's Camp Hill branch secretary Ben Cooper, who has set up an e-petition against the closure, estimated 160 posts out of 750 staff at HMP Isle of Wight would go.
Mr Cooper said staff have had a "stressful time" and "have been treated appallingly" because they have not been told what is happening with their jobs or whether they need to be redeployed to the mainland.
"Everybody was under the impression they would know what was happening to them by 1 March," he said.
"They were told they would be leaving by 30 June if they took voluntary redundancy, but now they've been told they don't know what will be happening to them until later on, and we have to wait for various decisions."
The last of Camp Hill's 595 prisoners are being transferred to other jails this week and the land will be handed back to the MoJ.
There will be 2,600 fewer places across England in a move that is estimated to save about £63m a year.
The MoJ plans to build a 2,000-place super prison in London, north-west England or north Wales.